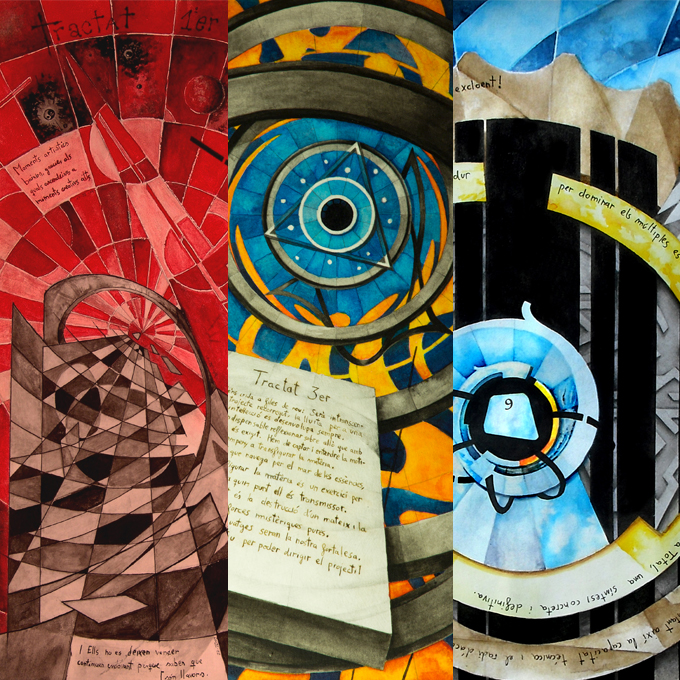 What are The Dissertations?
The fundamental characteristic of those works I call Dissertations is based on a communion of an abstract structure, of geometric tendency, with a text that envelops a reflection. The most interesting, from my point of view, is the relationship between reflection and image. These types of compositions wouldn't be understood without the participation of text. All of them are understood by the coordination betwen image and word. Image illustrates what the text is telling us; composition help us to understand the message of text.
In every Dissertation a whole series of forms coexists around a central circle. The Dissertations are abstract compositions about metaphysical problem between a subject and the Absolute. They're maps of the relationships between these two poles. I decided to express this philosophical analogy in abstract language because it offers good plastic solutions to represent this
Regarding the work process I think it's important to explain that the fact of start working on a Dissertation is given by the writing of the text. I develop a Dissertation depending on the philosophical inspiration I find in the text. Only when the text is written I begin to design the visual structure of the idea. Is at this point when the formal dialogue between message and image begins.
The 2nd and the 3rd Dissertation follow the general guide proposed by the 1st one: we find a geometrical architecture conceived as an abstract space where we can read a text written especially for this composition. These thoughts always talk about the relationship between the artist and his work, they are personal considerations that contain values, warnings and aphorisms aimed to remembering and emphasizing how important is the artistic creation.
Anyway, 2nd and 3rd Dissertations are also rupturist, there aren't referential or figurative elements such as in the 1st Dissertation. In the last two Dissertations I've excluded all kind of this elements, but not by a desire to exterminate them, rather because these elements didn't fit into this compostions. The abstract compositions worked perfectly with this delimited language and it was unnecessary to support them with referential elements. In fact, I'm sure that soon, in a future Dissertation I will link the figurative element again, diluting the current radical separation between the figurative and symbolic language with geometrical and abstract world.